FREQUENTLY ASKED QUESTIONS
Why use Kangaroo Leather golf gloves?
Our Kangaroo Leather Golf Glove has a cross-grain construction.

Our gloves are an all-Weather Golf Glove.

Kangaroo Leather golf gloves are like wearing a second skin.

Kangaroo Leather is thinner than other gloves.

Kangaroo Leather golf gloves have sensational grip when wet.

Our golf gloves require no special care.

Our Golf Glove Outlasts and Outperforms any other Glove today by a 5:1 Ratio.

Kakadu Kangaroo Leather Golf Gloves are washable in cold water.

Because of its durability, the Kakadu Golf glove offers great value for money.
Do I wear the golf glove on my right hand or on my left hand?
A golf glove is traditionally worn on the less-dominant hand. So, if you are right-handed, you would wear the golf glove on your left hand. If you are left-handed, you would wear the golf glove on your right hand. Many players wear gloves on both hands to obtain maximum grip, for sun protection, or to keep hands warmer in cooler climates.
Do I need to wear a golf glove?
The rules of golf do not require you to wear a golf glove. However, a well-fitting golf glove provides many benefits. Most notably, a golf glove helps the player maintain a firm grip on the club. Without a glove, sweat can cause your hand to slip on your club's grip. Wearing a glove creates a barrier between the sweat on your hand and your club's grip allowing you to maintain a firm hold on the club. Using the glove as a barrier between your hand and the club will also help prevent blisters from forming on your hand.
What size should I buy?
Kakadu Australia Gloves are available in XXS through to XXL. All gloves are unisex to fit both women and men.
To find out your glove size, measure (in cms) around your hand with a tape measure as shown below (just below the knuckles).
| | |
| --- | --- |
| UNISEX | CM |
| XXXS | 16 |
| XXS | 17 |
| XS | 18 |
| S | 19 |
| M | 20 |
| L | 21.5 |
| XL | 23 |
| XXL | 24.5 |
| XXXL | 26 |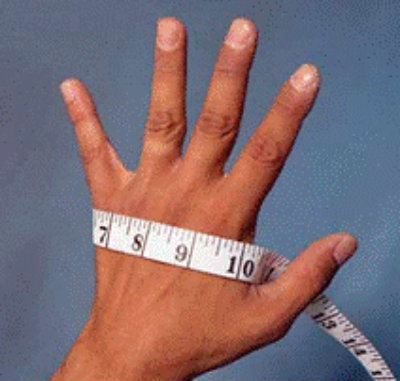 Do you ship internationally?
Yes, Kakadu Australia ships to most destinations around the world. Prices do not include relevant overseas customs duties, foreign taxes or other fees, which may be imposed and this is the responsibility of the customer.
How long does it take to receive my shipment internationally?
International purchases are shipped via Australia Post - your purchase should arrive within 3-10 working days from date of post. Delivery can take longer if there are public holidays, customs to clear etc.
How long does it take to receive my purchase in Australia?
You should receive your purchase in Australia via standard post within 10 working days. If express posted, you should receive it within 1-2 working days. We can post to street addresses or post office boxes. If your order is received prior to 1pm weekdays, it will be dispatched the same day. Please remember your purchase may be delayed if there are public holidays etc.
My glove is too small or large, can I exchange it?
Yes, please refer to our returns and exchange page which explains how to return/exchange your product.
Can I wash my golf glove?
Our gloves can be hand washed in cold water. Do not use fabric softener or detergents and never dry your gloves in direct sunlight. Do not tumble dry.